Jay Arthur
3190 S Ash St
Denver, CO 80222


Reservations
(866) 817.7018
808.442.6005

Maui Kaanapali Villas was NOT damaged by the fire in Lahaina. See you on the beach.
Money Magazine ranks Maui as the #1 Last-Minute Summer Getaway!
"This normally pricy destination is the cheapest it's been in years."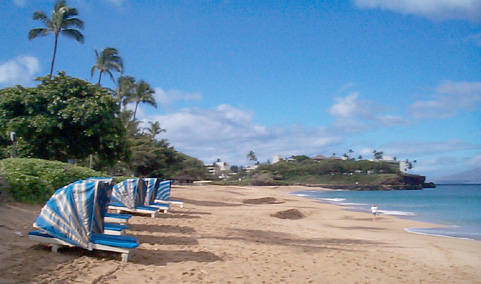 Kaanapali Beach is one of the top rated beaches in the world. It's about a 45 minute drive from the Kahului airport to Kaanapali.

For many people a vacation in Hawaii seems exotic, expensive, and potentially out of reach. But it doesn't have to be that way.
There are two main ways to vacation in Hawaii: hotels or condos.
(You can also camp out in State or National Parks.)
Hotels
Hotels are great for newlyweds using somebody else's credit card, but restaurants and room service can get to be expensive.

And you come to Hawaii to get out of traffic jams, don't you?
This is what the pool and beach look like at the big hotels.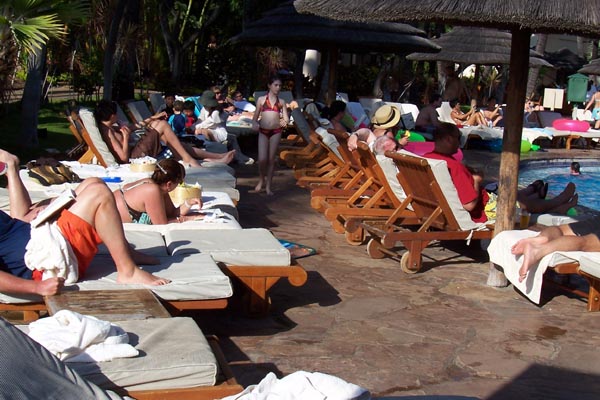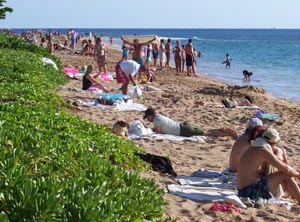 Compare this to the Maui Kaanapali Villas new pool and beach (below).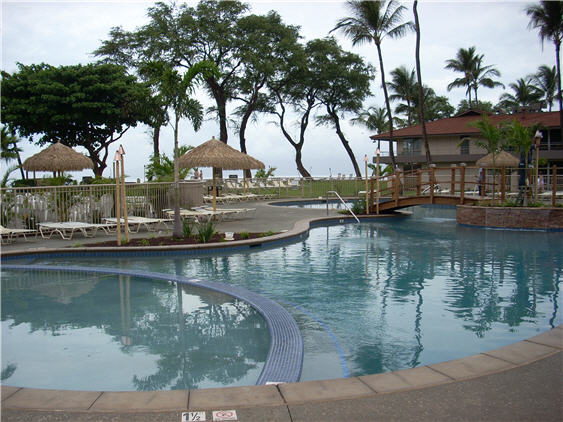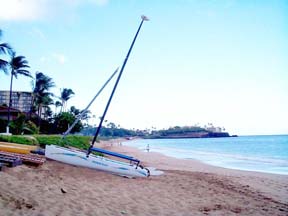 Or the new MKV pool between the Coconut and Banyan buildings.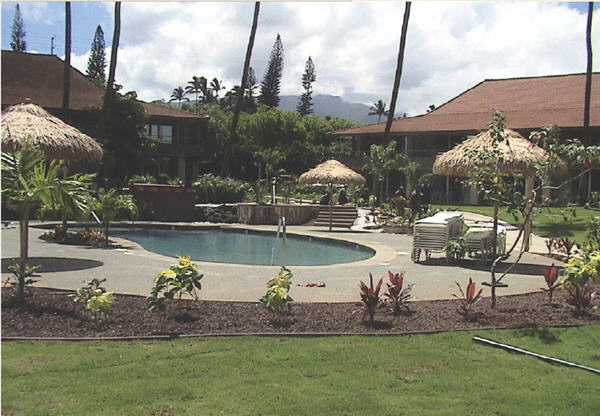 Condos
For less than the price of a hotel you can get a condo like ours at Maui Kaanapali Villas that has a full kitchen, pool, beach, restaurant, and local transportation.

Condos are better for families and couples who might want:
to cook some meals
a garden area where kids can play, but you can keep your eye on them
a family reunion with several adjoining condos
a quieter vacation
Why are hotels so crowded and many condos aren't? Density! Ten stories vs two. 3 acres vs 12.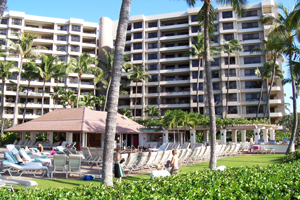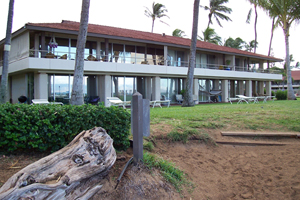 Maui Kaanapali Villas has one of the lowest densities of any property on the island.

All Condos Are Not Created Equal
Beach Access: Some condos are on the beach, while some are off the beach. Off the beach means that you may have to cross a busy road to get to the beach or even drive to the beach.

When you vacation in Hawaii at Maui Kaanapali Villas (MKV), you are right on Kaanapali beach. Your commute to the beach is a two minute walk from any condo.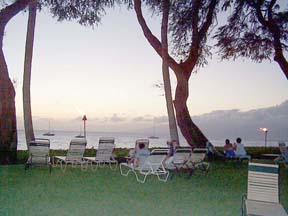 Restaurants: Some condos have restaurants, others don't.
At MKV, the Castaway Cafe is right on the beach, by the main pool.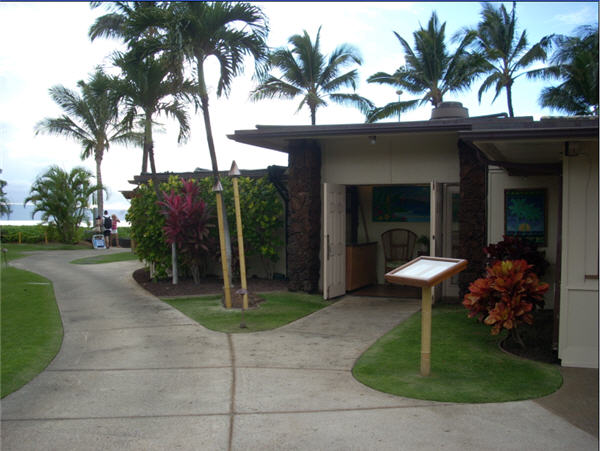 All Views Are Not Created Equal
There are three kinds of views you can get from your room: Ocean views, garden views, and mountain views (inland).

Ocean views are often more expensive ($100-200/night)?

Mountain views look inland toward the volcanic mountains of the island.

Garden views overlook the lawns of the property. If you bring the kids, wouldn't it be nice to keep an eye on them?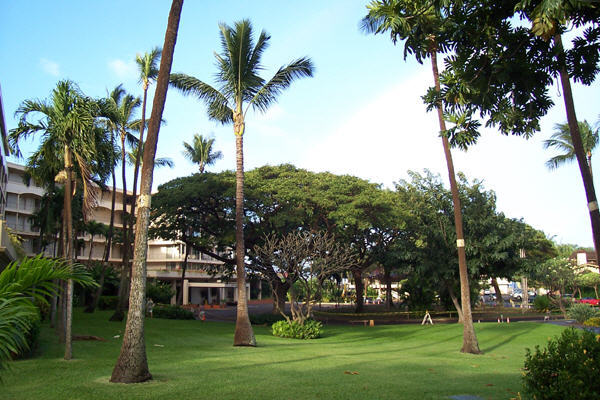 It's just a short walk from here to the beach:


Airfare
When you vacation in Hawaii, airfares can seem expensive. While most airlines run off-season fares, there's a cheaper way to get to Hawaii. I have a credit card that pays me one mile for every dollar I spend. I use it for business and personal charges. The air miles from my credit card has taken my wife and I to Hawaii, for free, almost every year. The secret? Airlines open air miles booking 330 days in advance. If you can think 11 months in advance, you can get free seats.

From the west coast, you can fly to Maui in about 4.5 hours. Other islands are only about 30 minutes flying time from Maui.
Hint: There are more direct flights to Honolulu than to Maui or other islands, so you may have an easier time booking your free air-miles flight to Oahu, then connecting to Maui. Local flights operate every hour.

Here's the view of the Kaanapali coastline from Google Earth: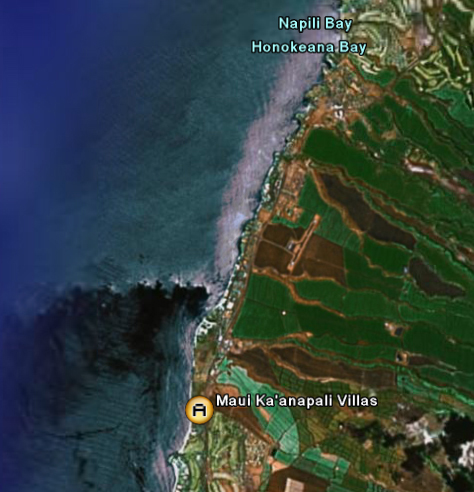 Facilities
Two Pools
Beachside restaurant
Convenience store
Spa exercise facility
Wireless Internet
Kaanapali Trolley shuttle to Lahaina
Shuffle board
---
When you reserve your room, just ask for one of our condos:
Contact MKV reservations today at 866-817-7018 (808-442-6005)
res.mkv@astonhotels.com
or your travel agent or Aston Hotels!

© 2004 Jay Arthur (888) 468-1537
knowwareman@qimacros.com
FREE Internet
Sailing
Surfing Lessons
Parasailing
Helicopter Tours
Bicycle Tours
Lanai Day Trip
Hana Drive
Dinner Cruise